Israel is the only country in the world to use military tribunals to trial children, frequently depriving them of their fundamental rights. According to Addameer, the Israeli army has arrested more than 12,000 Palestinian children since 2000. Most of these children were accused of "throwing stones", a crime subject to a 20-year prison sentence under military law.
The story of Ahmad Manasra
Ahmad Manasra, who was detained at the age of 13, mercilessly interrogated, and ultimately sentenced, is one of the most horrific examples involving child prisoners. He has recently turned 21, after serving his term for six years and spending six months in jail prior to that. When Manasra was just 13 years old, he was arrested and sentenced a 12-year prison term and a $47,000 fine. Later, the term was reduced to nine years.
In partnership with legal professionals, children's rights activists, and prisoner's rights organizations, the Palestine Global Mental Health Network began a campaign under the hashtag #FreeAhmadManasra before his court hearing on April 13 to bring attention to his cause. The hashtag gained popularity very rapidly throughout numerous Arab nations. In a short period of time, a petition demanding his release amassed close to 150,000 signatures, and multiple sit-ins were held in support of the Palestinian man in several countries.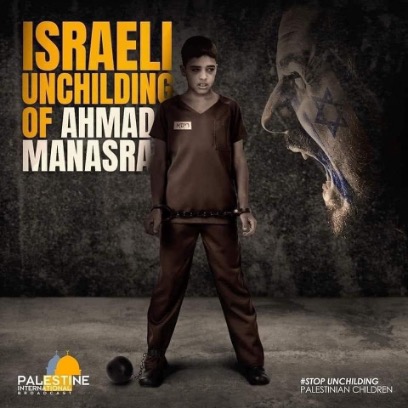 Manasra is battling both physical and mental health concerns. This has recently brought additional attention to his story, during the international campaign for his release launched on social media. Ahmed was badly beaten while in detention, according to Manasra's family. This led to a skull fracture and the development of a hematoma. He has suffered "constant punishment and abuse, numerous physical, psychological, and social torture".
The numbers
The case of Manasra is not an unusual case. According to reports, Israeli soldiers have detained around 9000 Palestinian children since 2015. Humanitarian specialists claim that arbitrary and illegal detentions are scare tactics used to terrify younger generations and weaken Palestinian resistance by inflicting long-lasting emotional and mental trauma.
According to Defense for Children International Palestine (DCIP), around 13,000 Palestinian children have been arrested, questioned, tried, and imprisoned by Israeli military authorities since 2000. An average of 263 Palestinian children between the ages of 12 and 17 were held by Israeli police between January 2016 and September 2020.
There are currently 160 Palestinian children detained in Israeli prisons. Most of them are awaiting trial and have not been found guilty of any crime.